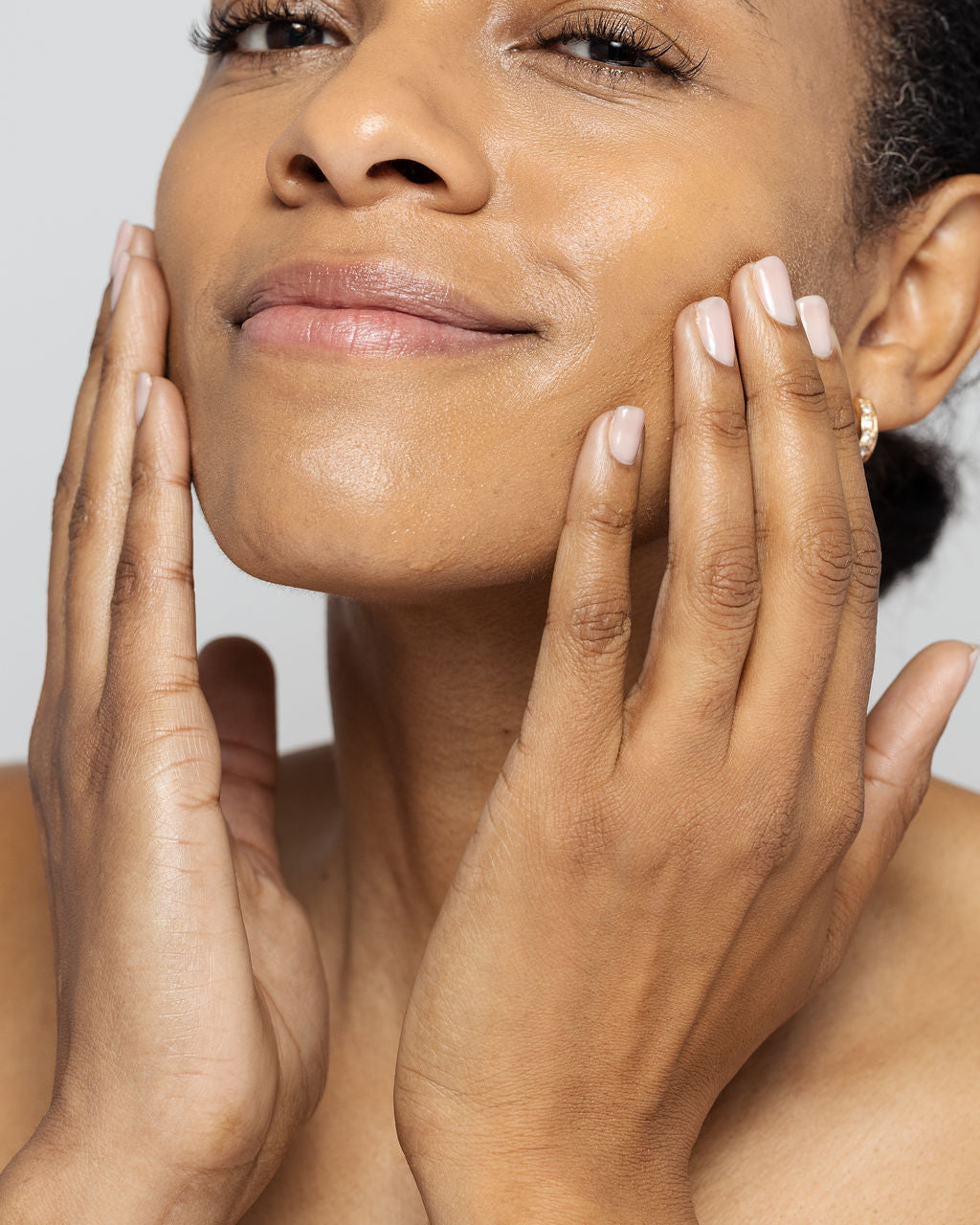 Advanced Skin Lightening Serum
A powerful, multi-purpose antioxidant serum designed to target moderate to advanced skin tone issues while reducing the signs of aging. Formulated with 2% Hydroquinone USP to visibly reduce dark spots including those caused by age and UV exposure and 10% Vitamin C to reduce the look of fine lines and wrinkles. Skin is visibly brighter, with a more even tone and texture.
For all skin types.
HYPOALLERGENIC
VEGAN
CRUELTY FREE
Cleanse and tone your face before use. Place 2 to 3 drops of Advanced Skin Lightening Serum in the palm of your hand and use fingertips to apply a thin layer to face, neck, chest and back of hands as desired once or twice daily. Follow up with your retinol or other target products and moisturizer.

It is important to limit sun exposure and always wear a sunscreen rated SPF 30+ while using hydroquinone.
DETAILS
Hydroquinone is a highly effective ingredient that lightens and corrects moderate to severe dark spots. It is not recommended to exceed 3 consecutive months of use. For best results, use Advanced skin lightening serum for 3 months and then switch to our non-HQ Radiance Serum.
PREPARE
TARGET
MOISTURIZE
PROTECT
MEDICINAL INGREDIENT:
- Hydroquinone 2% USP in a liquid gel base containing Vitamin C IDS™ (L-Ascorbic Acid USP).

NON-MEDICINAL INGREDIENTS:
Citrus Grandis (Grapefruit) Extract, Ethoxydiglycol, Fragrance, L-Ascorbic Acid USP, Propylene Glycol, Water/Eau.
As part of our commitment to innovation, we are continually updating our ingredients and technologies to ensure our products deliver the best results. Therefore, depending on the timing and location of your purchase, this ingredient list may differ slightly from the product you purchased. Always refer to your product's outer packaging for ingredient information specific to your product.
Q: What makes Vivier's Vitamin C Serums unique?
A: Vivier's Vitamin C Serums are unique from others on the market in a number of ways:
They contain pharmaceutical grade Vitamin C (L-Ascorbic Acid USP) which means it is pure, rigorously tested and the best quality Vitamin C available.

Our propriety delivery system (IntraDermal System) ensures our key ingredients are delivered into the skin where it's needed most for maximum benefit and results.

Our formulations maximize product stability and prevent oxidation.

Q: How long will Advanced Skin Lightening Serum last me?
A: On average, the product should last you approximately 12 weeks. At this point we recommend that you cycle-off to a non-Hydroquinone product such as Radiance Serum and continue to wear a sunscreen SPF 30+ to maintain results.
Q: Do I need a prescription for products with Hydroquinone?
A: No. products containing up to 2% hydroquinone are available without a prescription.
*Used in conjunction with Corrector 2. These photos are based on these users' experience and results may vary. See a Vivier authorized physician for more information and to select the products that are right for you.
spend more, try more
GET YOUR CHOICE OF SAMPLE !
Get 1 FREE deluxe mini with every order of $100.
Get 2 FREE deluxe minis with every order of $350.
Get 3 FREE deluxe minis with every order of $600.
Total 5 star reviews: 31
Total 4 star reviews: 3
Total 3 star reviews: 3
Total 2 star reviews: 0
Total 1 star reviews: 0
92%
would recommend this product
Zeinabou S.

Verified Buyer

Which age range do you fall into?

25 to 39 years old

Which skin type best describes you?

Combination

What are your skin concerns?

Dark spots / Hyperpigmentation,

Texture,

Acne Scars

10 seconds ago

Which age range do you fall into?

25 to 39 years old

Which skin type best describes you?

Combination

What are your skin concerns?

Dark spots / Hyperpigmentation,

Texture,

Acne Scars

Great product

Ce produit est vraiment bien ! Ma peau est plus lisse et plus radieuse !

France L.

Verified Buyer

Which age range do you fall into?

40 to 60 years old

Which skin type best describes you?

Sensitive,

Normal

What are your skin concerns?

Dark spots / Hyperpigmentation,

Fine Lines

1 week ago

Which age range do you fall into?

40 to 60 years old

Which skin type best describes you?

Sensitive,

Normal

What are your skin concerns?

Dark spots / Hyperpigmentation,

Fine Lines

Perfect perk to my skincare routine

I have mild to moderate hyperpigmentation so I decided to switch out the radiance serum for this one in the fall alongside a series of Vivier glow peels. This product is amazing, non drying or irritating. My skin can be sensitive and reactive so I am very pleased with this product so far.

Martine De V.

Verified Buyer

Which age range do you fall into?

Above 60 years old

Which skin type best describes you?

Sensitive

What are your skin concerns?

Dark spots / Hyperpigmentation,

Under Eye Circles,

Under Eye Puffiness,

Sagging Skin,

Dryness

3 weeks ago

Which age range do you fall into?

Above 60 years old

Which skin type best describes you?

Sensitive

What are your skin concerns?

Dark spots / Hyperpigmentation,

Under Eye Circles,

Under Eye Puffiness,

Sagging Skin,

Dryness

Fantastic Serum

I never thought a cream would actually help after buying tons and tons of different creams, but I really feel this is making a difference, and I frequently receive compliments on my skin,
Reviews Loaded
Reviews Added